Why choose Shadowbox Custom Framing Gallery?
We are experts in all areas of picture framing, but we specialize in creating beautifully framed 3D presentations of your keepsakes. We turn your life's memories into works of art to be enjoyed today and protect them so that they will be cherished forever.
Shoeboxes are for shoes...Shadowboxes are for life's memories.
Lance does great work and is very helpful in providing custom framing options. Never had a shadowbox done, but his regular framing wok is really excellent.

Dan Smith


2/09/2018

I was very pleased with the work Shadowbox Custom Framing did on a painting I purchased. They helped me choose an appropriate frame and I was happy with the quality of work they did on the framing. While there was some difficulty in being notified about the completion of the work (which may have been a technical issue on my side), they let me come in on a Sunday to pickup the order when they were officially closed. Based on my experience, I would recommend them and intend to use them again.

Andrew Porter


1/23/2018

Had multiple degrees framed. Fantastic job, great help and input from the Owner, very knowledgeable and large selection. End product looks wonderful. Will continue to go there for any framing needs.

Laura Leigh


10/27/2017

Nauseous Geese


7/29/2017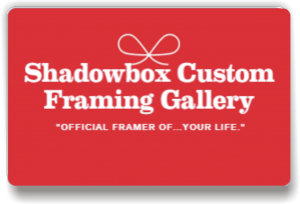 Copyright 2012 Shadowbox Custom Framing Gallery | All Rights Reserved |